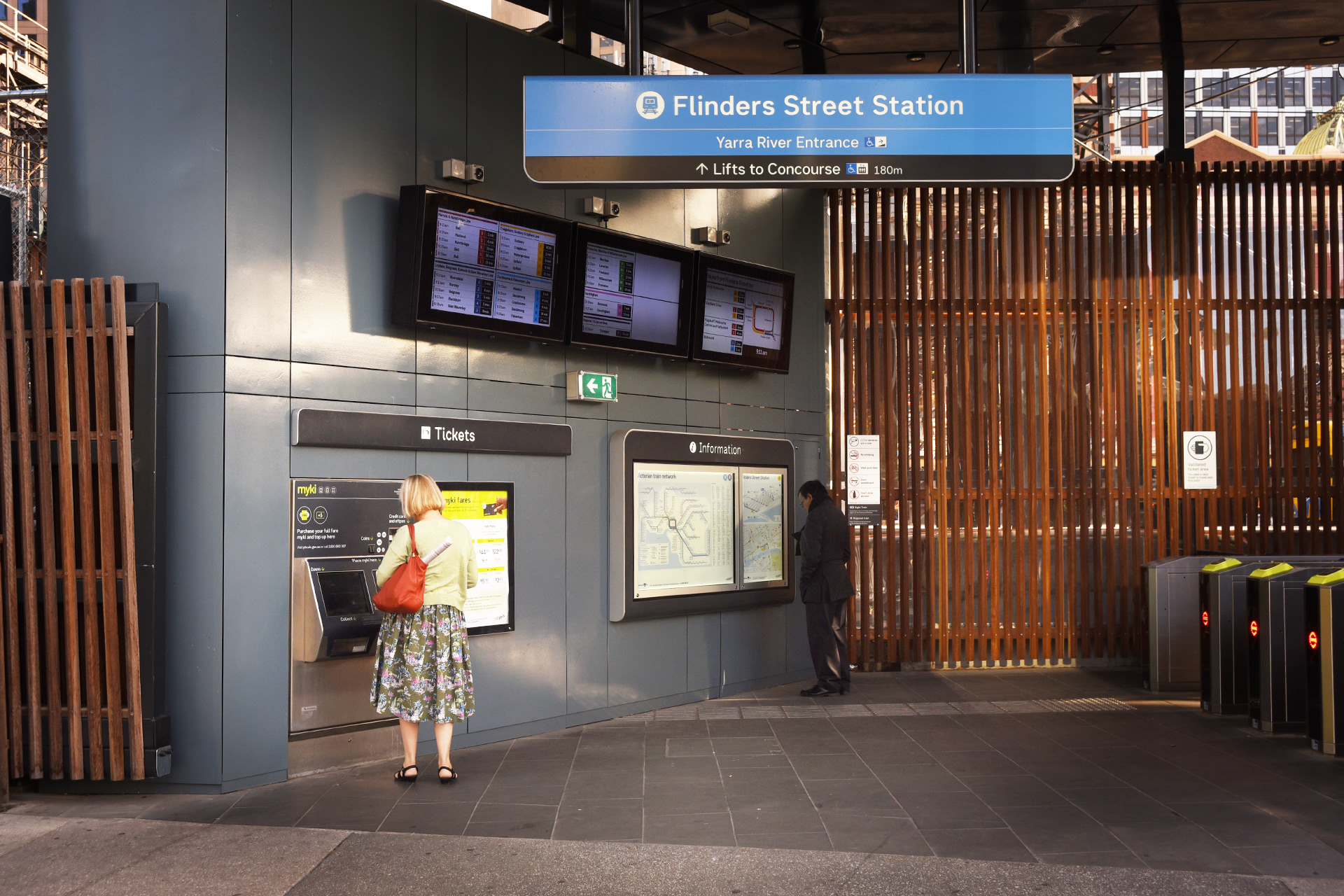 Flinders Street Station is one of Australia's largest public transport hubs. It contains a multi level environment that accesses several city blocks. Additionally, the precinct has become famous for the unusual stopping patterns of trains either passing through, or terminating at the station. This can create a level of panic and confusion as customers rush to meet connecting services, with regular uncertainty as to which services stop on what platforms. Until 2019, there was no information suite to help customers navigate the sprawling station. 
Public Trasnsport Victoria (PTV) sought to improve the situation by creating a new suite of navigational aids to unlock the environment and help customers of all access requirements move on with their journey. 
Objective
Create a suite of maps which respond to the various environments within the station to simplify navigation for customers of all kinds. The maps would be placed at strategic points around Flinders Street Station. A secondary objective was to develop a systematic workflow and approach to the creation and deployment of precinct maps that would establish a benchmark standard for station environments across the network.
My role
As lead designer, I worked to develop the suite of maps and establish a workflow process which would allow their deployment in other precincts. I developed three types of map for very different environments within the station. Each map type addresses specific needs in a way that is most appropriate to that environment. 
The first map type is presented in a 3D isometric style. The isometric map strips out buildings and walls so only access pathways are visible. It allows the traveler to see the station's many levels and shows how they interact. The map is produced heads-up, to aid in spatial orientation. It acts as a start point on a journey, visually linking a passenger with the wayfinding system – helping them choose which ramp, stair, elevator or escalator will get them started as they move towards their next service or exit. It is most helpful in multi-level environments such as platforms and underpasses as well as their access points. 
The second map type shows a birds-eye view, once again produced in heads-up orientation. This map presents a view from above the concourse specifically, combined with shallow 3D rendering for context. The birds-eye view map is helpful where there are longer sight lines and larger open spaces to traverse. It takes potential obstacles and turns them into navigational aids. The concourse has more than 20 different entry and exit points as well as a host of retail outlets. The map is designed to visually link a passenger with the station's wayfinding system, assisting them in finding the right pathway or exit from the concourse. After this, wayfinding will guide them onwards.
The third map type is geographic. It connects a passenger with local area attractions and links to nearby transport options. It is subtly informed by online map systems such as Google and Apple maps as well as the City of Melbourne wayfinding suite. This is to help create a more consistent experience as customers move in and out of the transport network and into the wider city. It provides visual cues to minor landmarks and features through pictogram pin drops and larger landmarks through simplified 3D illustrations. This map will appear alongside the 3D maps wherever they appear - helping decision making by orienting a passenger within the wider city context.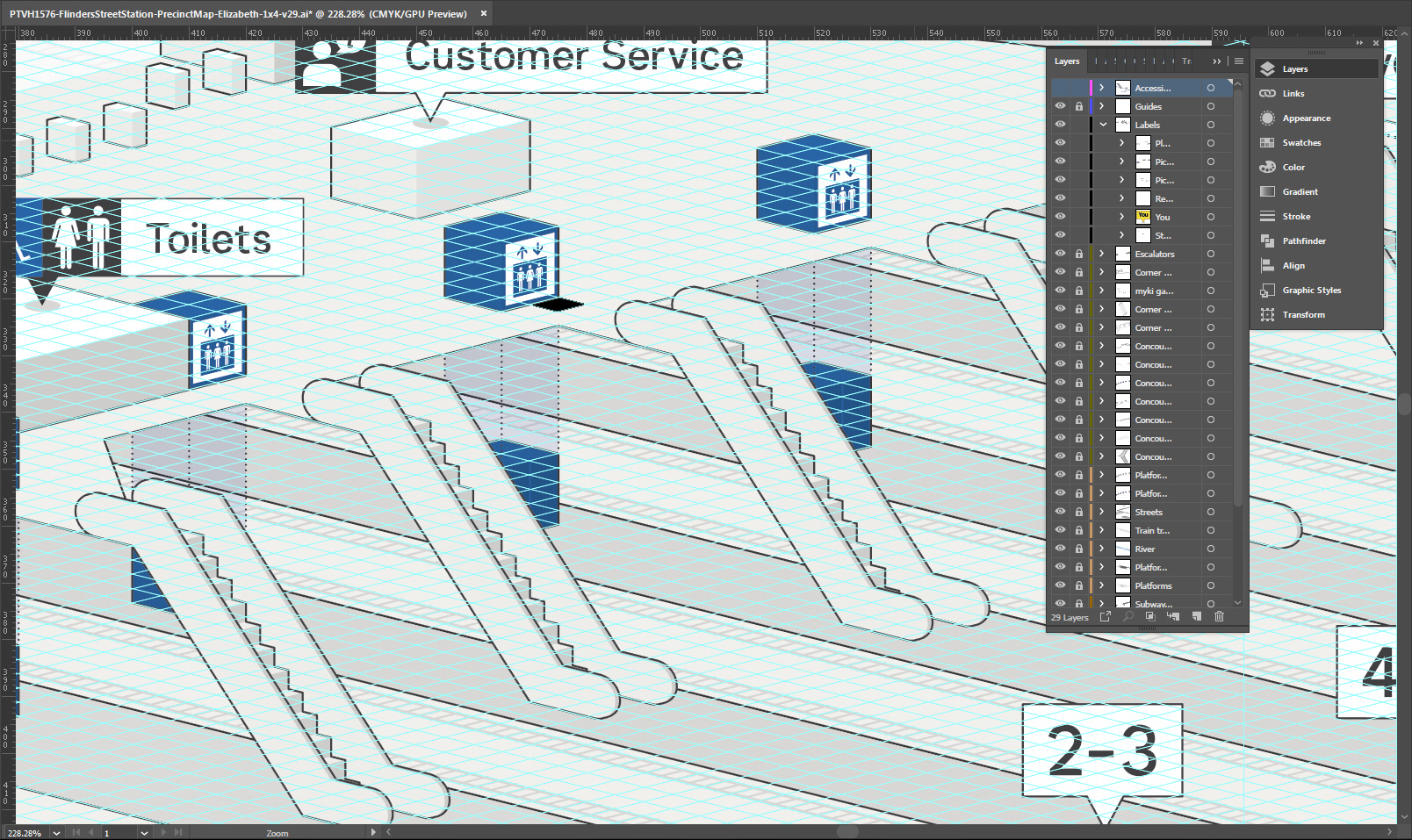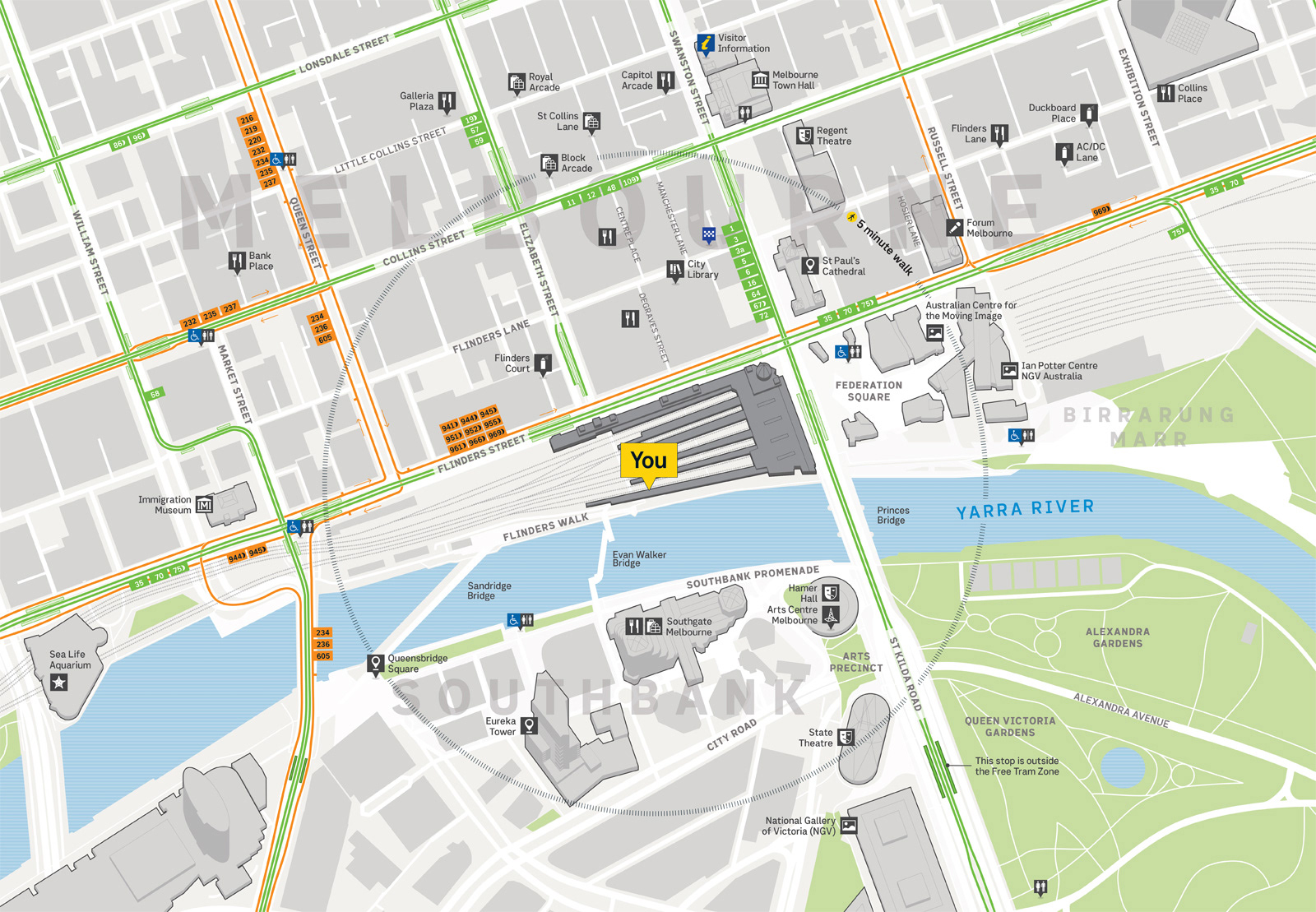 User testing
The system went through three phases of iterative user testing in December 2018. Using a human centred approach to user testing allowed me to iterate responsively over several testing days to refine and improve elements of the design system. The tests were blind, meaning not in the environment. The environment is often congested and fast moving, so it was essential that the maps could function adequately with limited interaction with their surrounds. This proved that the map system didn't need to depend on visual queues from the environment, but could stand alone.  
Outcome
The system has been endorsed. It will form the core of a new precinct map system for stations. It was rolled out at Flinders Street Station in March and April 2019 and was included in PTV's Master Style Guide as a benchmark standard for future station precinct redevelopments state wide.