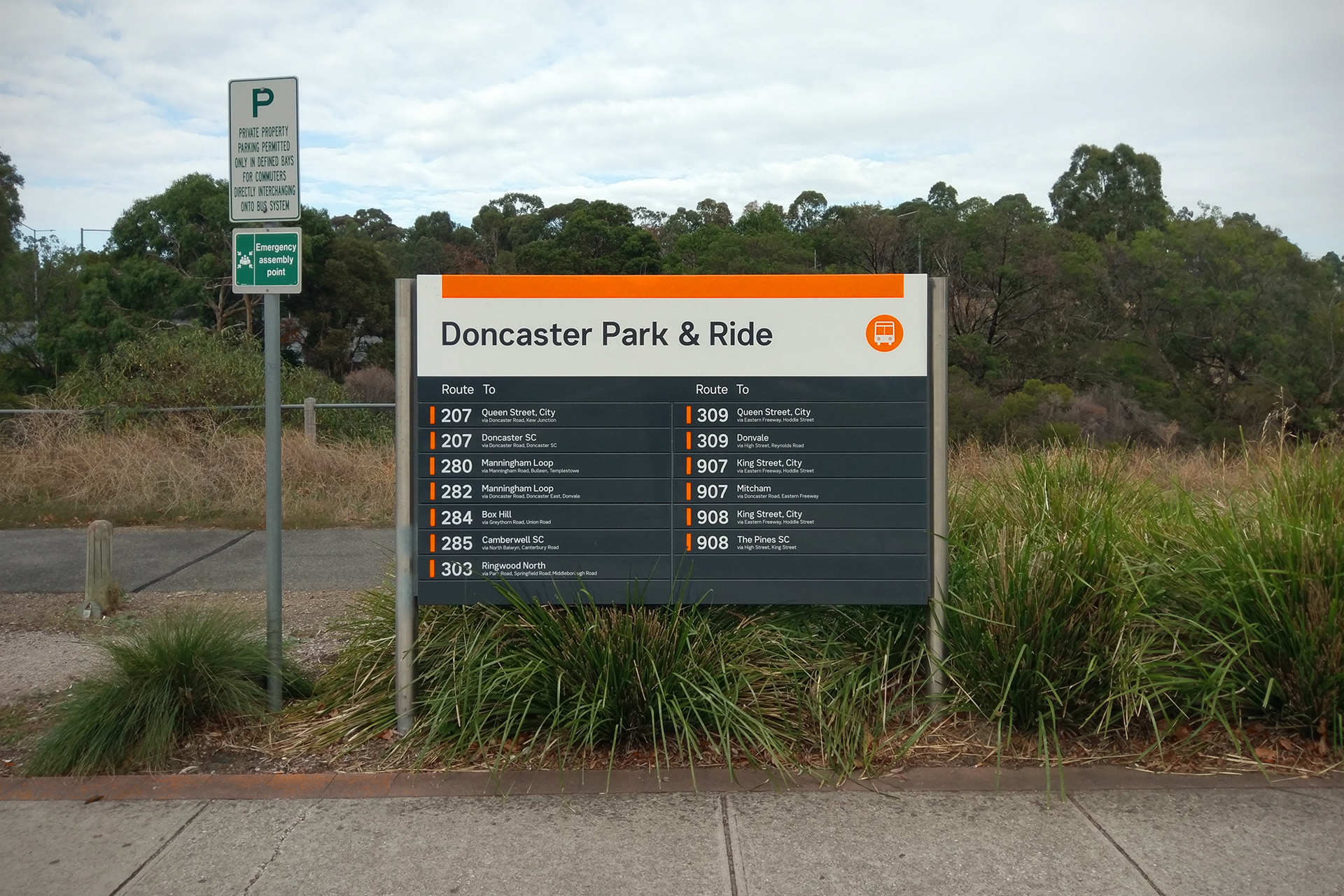 A series of upgrades to contained bus stop precincts provided the opportunity to develop and test new standards for bus stop identification and information.
Working within the framework of each precinct upgrade, the object was to use each opportunity to evolve PTV's bus stop standards. This included improving visibility of stops, legibility of stop identification information and comprehension of bus route details. All of this would occur within the existing modular signage framework by supplementing or reskinning existing signage infrastructure where possible.
Starting in 2016, specific projects were identified as opportunities to test new information and signage. A project location was considered if it formed a contained precinct, where all signage and information could be updated without impacting business-as-usual signage across the network as a whole.
The following projects required complete new suites of signage and information within contained environments, so formed perfect opportunities for development:
Bendigo
– in 2016, the central bus hub for Bendigo's bus network was redeveloped, requiring new signs and support infrastructure.
Monash
– in 2017 Monash University redeveloped it's bus interchange, requiring an entirely new signage and wayfinding suite.
Ballarat
– in 2017 a new bus network was launched in Ballarat. This change required significant new infrastructure.
Doncaster Park & Ride
– in 2018, feedback from the Park & Ride had shown that there were significant pedestrian traffic problems. These could be addressed through redevelopment of signage, information and the establishment of new Park & Ride standards.
Bus stop information customer testing
– Following on from the growing number of test cases, in 2018, PTV carried out a series of user experience tests at bus stops in central Melbourne.
Frankston & Huntingdale
– in 2018, completely new bus interchange precincts were built. The learnings from previous projects were applied as standards to these precinct developments.
While I was involved in all of these projects to some degree, I played a significant design and planning role in the following projects: Monash University bus precinct, PTV's Park and ride standards project, Bus stop standards user testing. 
My role was to design and allocate new signage, wayfinding and customer information within the scope requirements of each individual precinct upgrade. Each project contained different requirements, which taken together could form a new set of bus stop standards.   


Monash University
In 2016, Monash University completed the construction of a new bus interchange at it's Clayton campus. This development offered PTV the opportunity to test improvements to it's full suite of bus stop identification tools within a contained environment. The intent was not to completely replace the existing stop identification system developed by Cornwell Design. The modular signage system was well suited to the spaces in which it was applied. On a day to day basis it was very easy to manage and update.
However it had become apparent that some aspects of the existing suite did require further development. Because of the extensive use of orange as a hero colour, the existing system had shown contrast and legibility limitations. PTV had inherited orange as a hero colour for bus services and with more than 30,000 orange signs on the network, there was no appetite for any change to this. 
A typical large bus stop precinct
A typical bus interchange precinct had several modular artefacts which could be included in the test. A large wayfinding board which acts as a primary stop identifier and highlights services and their departure points within the precinct. This board doesn't always include actual wayfinding information, and isn't always sited at precinct entry. Individual stops within the precinct are identified by either a totem style sign or a pole mounted flag. These artefacts play the dual role of identifying the bay and housing service information. 
The test
The completely new precinct allowed for reallocating sign locations and in some cases creating new signs altogether. A new totem style sign had been trialled previously in the redevelopment of Bendigo's bus network, it could be improved upon at Monash.
The new Monash interchange also contained load bearing mountings under it's overhead awnings. Room for future passenger information displays had been a scope requirement for the architects. Until that development occurred, this was an ideal location to test a new modular overhead blade sign that could improve the viewing distance for bay identification and not be impacted by crowds at-stop.
Additional considerations that were included in the Monash test for the first time included: 
Colour contrast
– Previous bus stops were identified using white text on orange background. This did not meet any colour contrast standards and often proved difficult for both customers and drivers to see. 
Stop identification within a precinct
– Previously bus bays and stops within a precinct had been identified by number. But this often caused confusion when train platforms and bus route numbers all appeared on the same sign. Instead, letters would be used to identify bus bays.

Outcome
– The new signage suite included the following key improvements to signs:
– New signs highlight the mode pictogram as a highly visible stop identification device.
– All text meets colour contrast requirements and has appropriate reading distances for each type of information.
– Orange continues to play a hero identification role, but now it doesn't affect text legibility.
– Letters identify bus bays so there isn't confusion with route numbers.
– The new wayfinding sign is appropriately sited for a primary stop identifier and placed at a key decision point at precinct entry.
– New overhead bay identifiers are clearly visible from the precinct entry wayfinding sign.
– A stronger visual link has been developed between primary identification signage and bus timetable and mapping collateral.

Park & Ride standards

Doncaster's Park & Ride forms the centre of a local bus network. The precinct operates more like a train station – it forms a hub where local buses connect with city wide services. It has several services which connect directly to the city via the Doncaster Area Rapid Transit (DART) network. Because of this, it is busier than many suburban train stations.
Park & Ride precincts allow the extension of commuter travel into areas where there are limited direct public transport options. They take the form of a large car park which is directly attached to a train station or bus stop which offers express services.
In 2018 a timetable update at Doncaster's bus Park & Ride presented the opportunity to review and update signage and wayfinding in the precinct. As well as updating signage designs and information style, this was also an opportunity to investigate how general signage should be allocated in large bus precinct environments and would form the basis for a set of Park & Ride standards which could be applied to other precincts. 
The new standards would incorporate learnings from the previous signage test at Monash University as well as new timetable and mapping systems.



The process: Allocation of signs
There were well known pedestrian traffic issues in the precinct, which could be relieved by a complete reallocation of signage. After studying pedestrian and traffic patterns within the precinct and gaining feedback from local staff, important decision points and dwell zones 
were reviewed. 
The existing signage and timetable information was clustered around bus boarding points. In some cases there were even two signs side by side, which led to crowding as people looking at timetables mingled with others who were boarding. Overall there was enough space in the precinct, but empty areas away from bus boarding points indicated problematic clustering of people and information. 
I decided that the best way to nudge passengers away from boarding points was to relocate major signage in a way that separated different usage requirements and created new dwell spaces for different pedestrian uses. 
There were three main sign types employed in the precinct: A primary identification pylon sign at the precinct entrance, A wayfinding sign on the platform, A timetable-holding totem sign where buses stopped. 
The primary identification sign was situated in a good location, but had colour contrast issues. 
The wayfinding sign performed no real function other than pointing out services that stopped in the precinct. It sat mid platform in the middle of the precinct. It's role was to announce what services connected to the stop, but was only visible to people sitting the bus parked in front of it, but the precinct held up to 5 buses at one time. It was designed to hold arrows pointing towards service departure points, but they weren't required in this precinct. 
The timetable totem signs were sighted in a way that encouraged people to cluster at boarding points which was seriously impacting on precinct performance. 
Firstly I moved the wayfinding sign to one of the precinct entrances where it's stop identification module and connecting services listing would be visible to all approaching buses as well as pedestrians approaching from parked cars. This confirmed the location to people arriving by bus and showed people in parked cars which way to go to catch buses. It allowed people to see connecting services before they entered the precinct. 
Secondly I moved the redesigned timetable information away from bus stopping points, drawing people away. This created a new dwell zone well away from any boarding point into an area with open space and seating, but still within clear visual range of the bus boarding point.
Timetable information would be redesigned separately and moved to a large information hub in a central location along the bus platform. The new timetable information included much clearer geographic and service route maps as well as much improved legibility on the timetables themselves.
Lastly, I de-cluttered the bus boarding point. All that remained where buses stopped was a simple boarding point sign on a flag pole that took up far less space. In effect, primary passenger dwell zones were physically separated from boarding points.
Additionally, I allocated new signage to help show areas of the precinct that were out of the direct line of sight of passengers. This included tickets, waiting rooms, toilets and a customer service desk. A waiting area sign would perform an additional supporting role in identifying the stop for people who were arriving by bus. It would be visible directly to people sitting onboard an arriving bus.



Redesign of signs
As well as a reallocation of signage, the project was an opportunity to redesign elements of directional and identification signage. Existing signage was for the most part, written in white text on orange colour fields. This presented legibility issues due to poor contrast. I evolved the signage used at the Monash test which replaced orange colour fields with white and made all text either black or white. The bus mode colour (orange) was used as a highlight so that it was still clearly a visible design feature, but no longer interfered with legibility.  
The new signage was consistent with that which was developed for the Monash University test and much more consistent with printed collateral.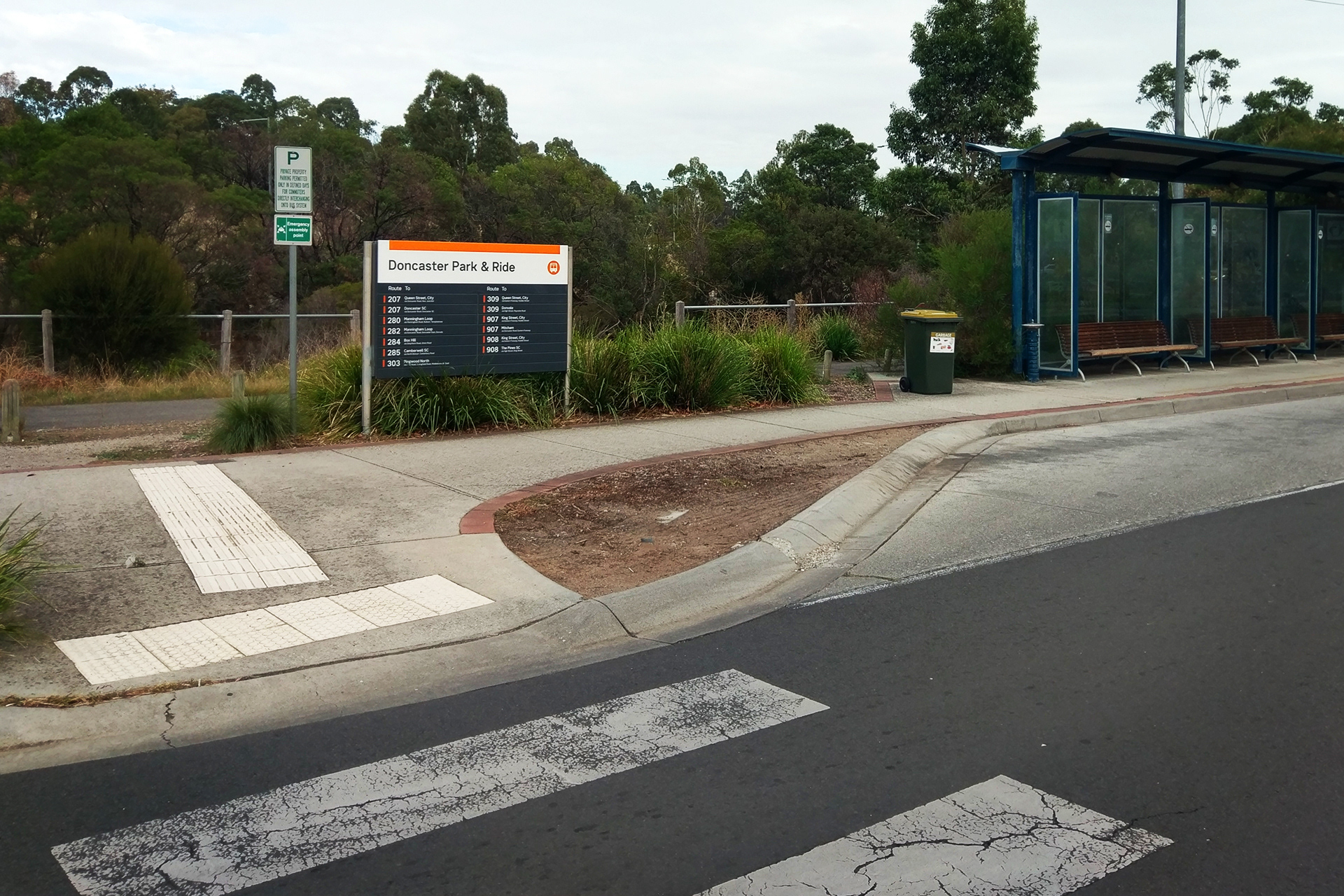 Bus stop information customer testing
Key learnings and assumptions from previous bus stop precinct trials were brought together by PTV's design studio in 2018 for user experience testing of at stop information. The object was to test assumptions on bus stop information requirements and to look at what future updates might also be recommended. The iterative testing was held over 4 days with the assistance of Meld Studios. 
The first day of testing included base level assumptions using designs based on existing at-stop material. The following day of testing included new at-stop material which had been developed during previous bus precinct trials. Days 3 and 4 further refined elements of the designs to discover the best level of information. 
Key findings from the testing included:
There are 4 pieces of critical information at every stop: Where am I?, how long do I have to wait?, What service am I looking for? and what are the details of my intended travel option? 
There is an information sweet spot – passengers want to discover information quickly at a glance but sometimes disengage if there is too much to read. This was true for both maps and timetables.
Outcome
The learnings from each project as well as the user testing have been incorporated into PTV's Wayfinding and signage standards, Network and Ticketing Passenger Information Standards and Visual Identity toolkit for 2019. 
I have incorporated learnings from the user testing to inform the mapping system developed for Flinders Street Station. This included the key findings around simplicity and hierarchy of information.