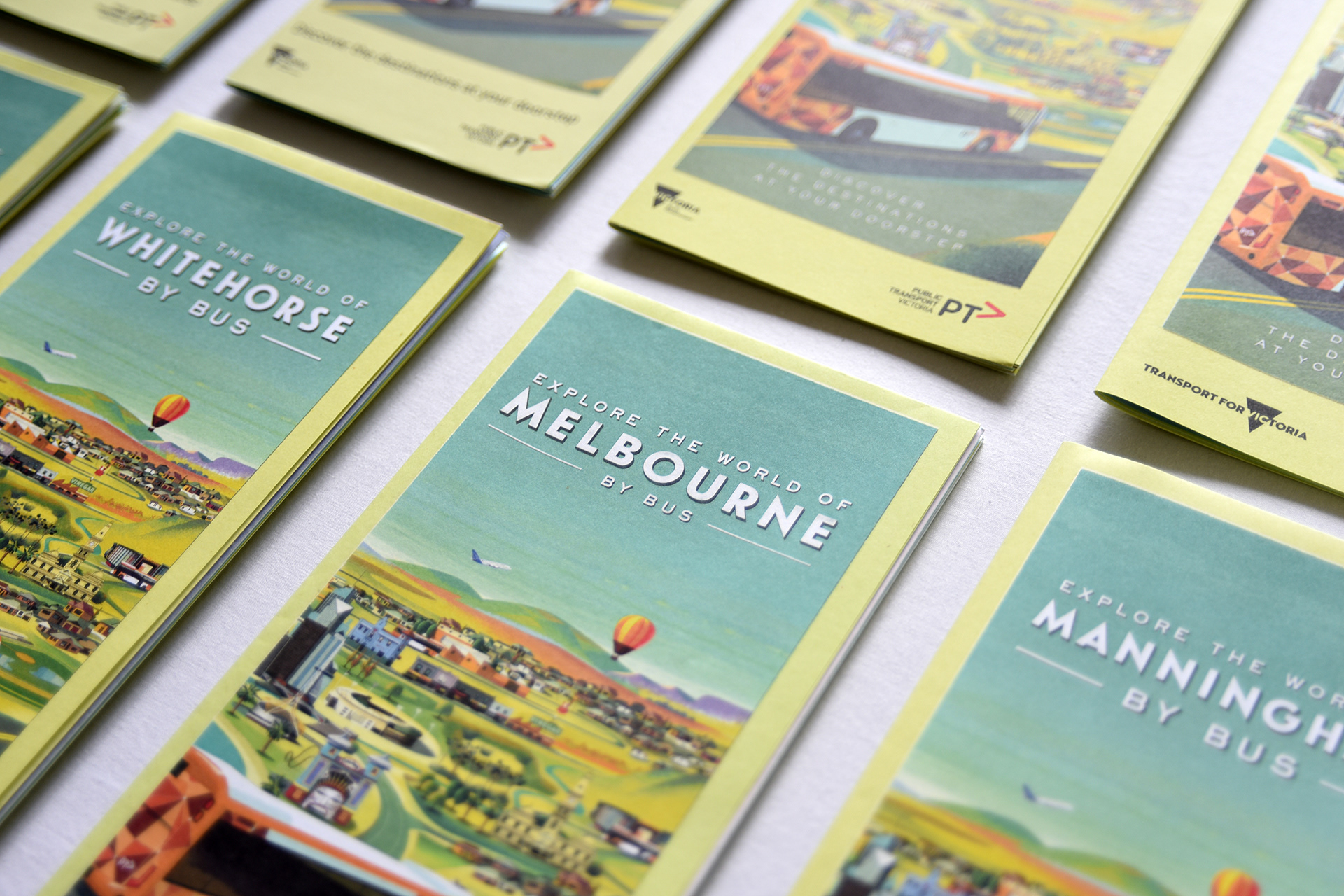 The campaign would group commissioned artwork with information on local attractions connected by bus. This would capture both the feel of a suburb and how to experience it. Collateral was to consist of mail dropped brochures, on-network poster advertising and a website designed specifically to show people what they've been missing at their doorstep.
The mail drop for each area included a brochure which heroed the local transport network through a large map. Public Transport Victoria's (PTV's) design studio used the campaign as an opportunity to develop and refine their local area map style.
Objective
To create a series of bespoke maps which highlight how well bus services connect local neighbourhoods with attractions and amenities. A secondary objective was to develop and evolve PTV's future local area map style and it's associated assets.
My role
To design a flexible map system which can be hand crafted into maps of different areas, or applied to generated online map assets. Also, to design graphic assets including pictograms, colour palettes and line styles. 
Process
We used a mixture of map data from Melway, Open Street Map and Google maps to create a bespoke map for each campaign area.The maps were produced in a large scale, so we could clearly show detailed route information. The map system would have a strong hierarchy of assets to rationalise what is shown – so as to not overwhelm with too much information.
The DL brochure containing the maps would be mailed out. Residents could interact with them in their own time. This freed us up to place greater emphasis on local amenities than we could on a network-centered product. The DL brochure included of the following:
- Artwork capturing the feel of the suburb.
- A guide to attractions reachable by bus. 
- A detailed map of the local area - showing where buses go, and how they connect with the wider network.
Outcome
The campaign has proven to be successful. Beginning in Footscray, the campaign has been repeated across greater Melbourne and Geelong with iterations appearing in, Moreland, Port Phillip, Wyndham, Manningham, Whitehorse, and Monash with more planned in the future. 
This system has formed the core of PTV's mapping standards and is being rolled out across all local network maps in Victoria.