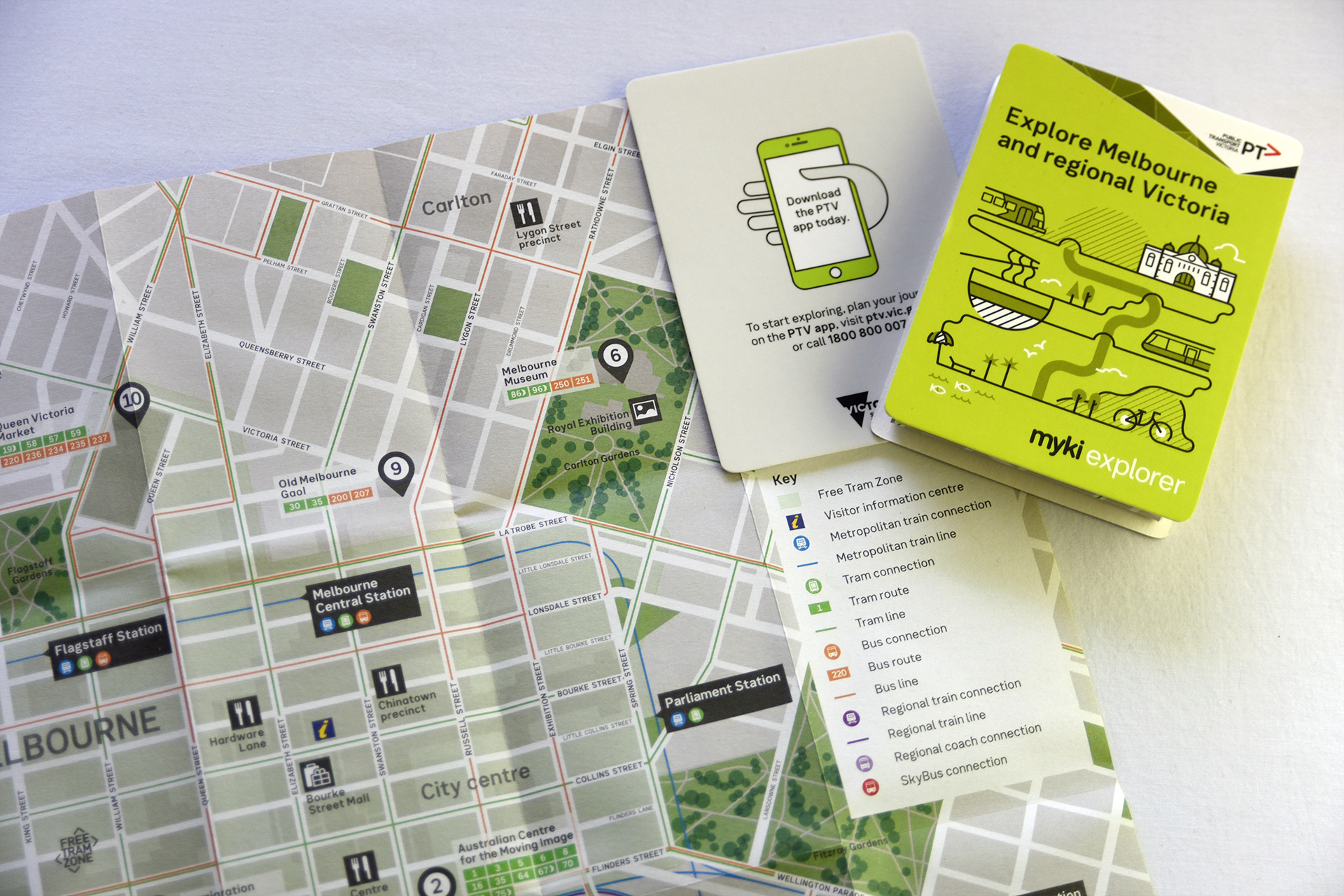 The Explorer pack includes information and discount vouchers to help travellers and locals alike get out onto the network. In 2017 Public Transport Victoria (PTV) began the process of refreshing the brand of it's myki ticket system through it's in-house design studio. As a prelude to this refresh, a redesign of the existing Explorer pack offered an opportunity to investigate what that new brand might end up looking like. 
The Explorer pack consists of a souvenir wallet containing a Z-card information brochure and a myki ticket card. The existing brochure consisted of an overview of Melbourne landmarks supported by a collection of vouchers. 
Objective
Update the look and feel of the myki Explorer pack, and improve the accompanying information suite. The new information suite would include maps of Melbourne's tram and train systems, a local area map of the CBD and a collection of discount vouchers to the city's major attractions. 
My role
As part of the design team, I was tasked with refining the Z-card document and creating a hero map of Melbourne's CBD. The map was an opportunity to develop PTV's campaign map style and look into how we flagged major transport options on high level mapping. It would also highlight how to get to specific attractions included in the pack.
Outcome
The explorer pack has proven influential towards both the myki brand refresh and the ongoing evolution of campaign mapping of the public transport system. The explorer pack has become a key support item in PTV's information suite. Over time it has been the basis for several campaigns aimed at travellers arriving by cruise liner. 
The flexible campaign map has become a PTV standard and has been utilised for ticketing and transport communications during the AFL finals including on screen at the Melbourne Cricket Ground. It has been extended to support communications for the Melbourne Cup, Melbourne Grand Prix, as well as for third party publications such as Yarra Trams at-stop information suite and Melbourne's White Night.