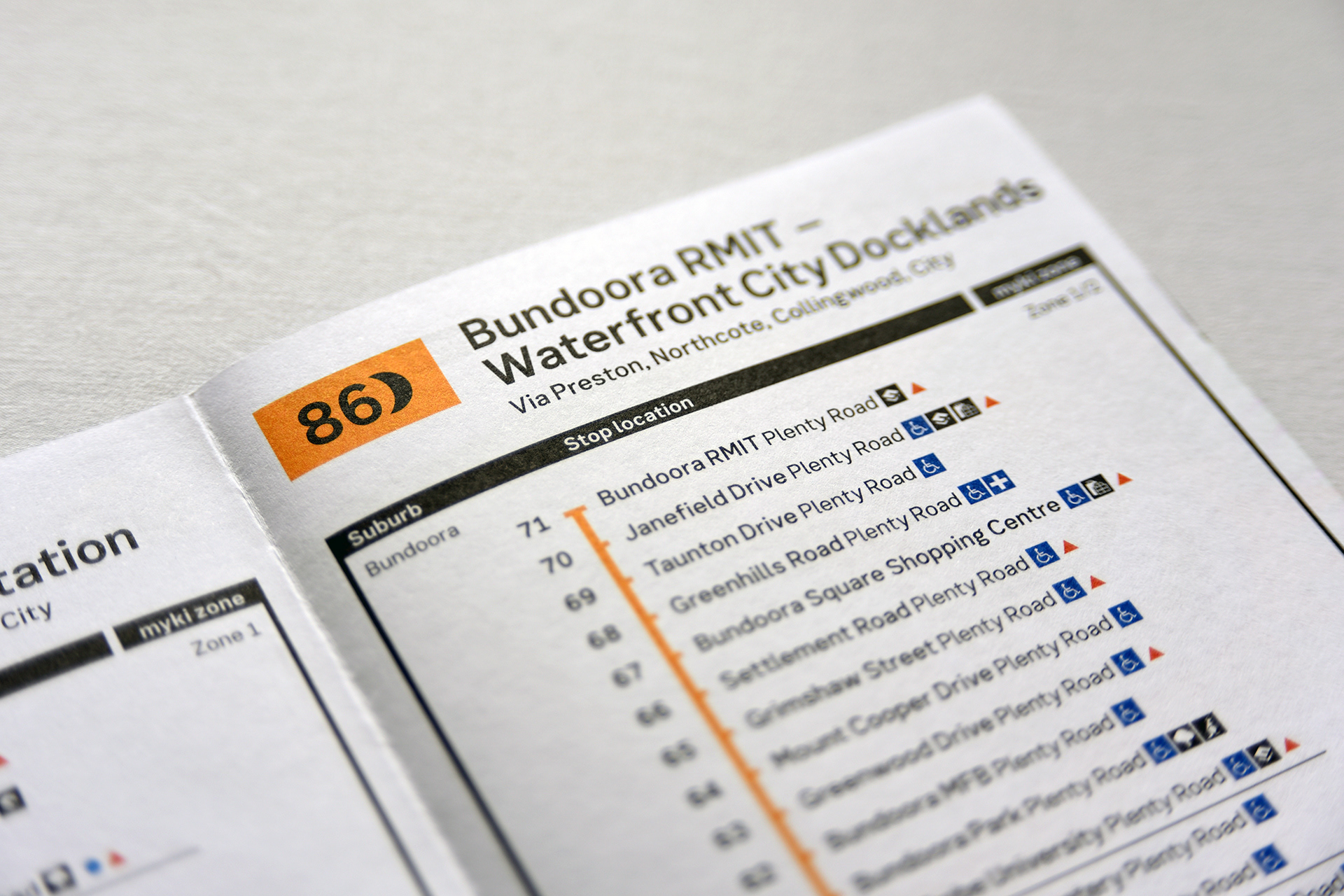 The timetable change meant a major reorganisation of services which included the establishment of new routes for the first time in 6 years. For Public Transport Victoria's (PTV's) design studio, this update presented the opportunity completely overhaul the available customer information suite. This extensive refresh would include design updates to all supporting maps and the collateral that held them. 
With limits on available time and budget, and considering the scope of a full information suite update, there were very real questions as to whether PTV could achieve the suite refresh at all. To ensure the refresh could be completed, it took lateral thinking to create the efficiencies that allowed time for new design standards to be established.
My role
As a part of a design team, I worked on the development of new route guides for tram routes. I was to develop the overall document framework and in particular, I was to create the information suite within the guides. Before the route guides could be actioned, I was responsible for refining the design of more than 50 new tram route maps. The tram route maps included thousands of stop references, landmarks and connections which had to be designed. They would be used online, on-board trams, and in the route guides. 
Process
First step was to address the route maps which would form the centrepiece of the information suite. The aim was to develop a map system that allowed for ongoing maintenance by project managers and finished artists at Yarra Trams.
Along with generating a full information suite, PTV's design studio was developing a new network map. Working closely with the Network Map's creative lead I refined the new route map system which would work in tandem with this map. The line map would use a flexible grid where every item was based on text CAP height. This allowed for different  scales of map to be created depending on space or size requirements. Once we established the design and styling for the route maps, I then needed to figure out how to quickly and efficiently generate several types of map for each of the 25 routes.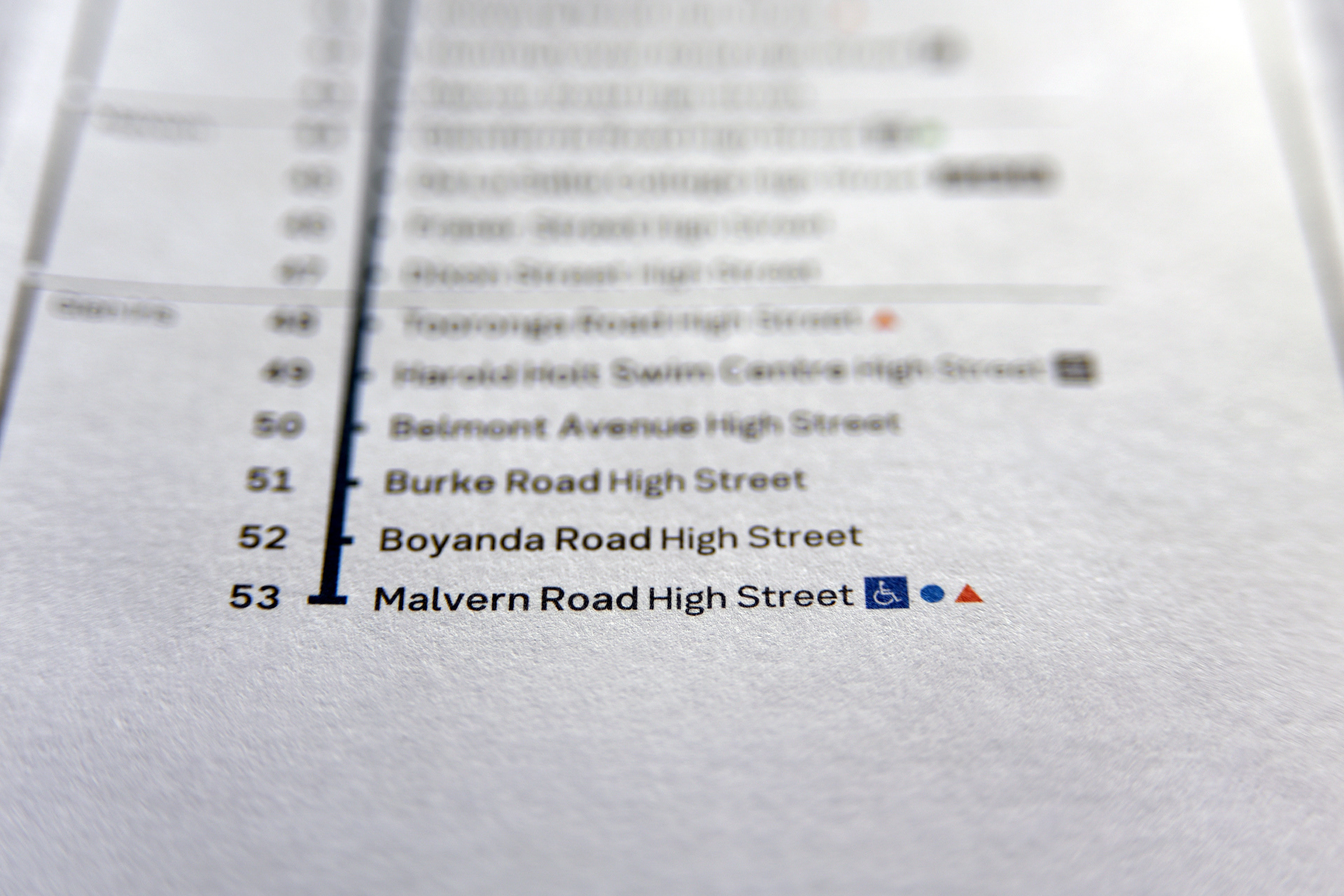 Route maps are just lists
Tram route data was maintained on a database. The database included all known relevant information for each route. Studying this information lead to the realisation that route maps are essentially lists of information made more digestible through the application of graphic devices. 
This information could be rationalised and used as the literal foundation for the new route maps. It could be utilised to create individual CSV data tables for each route.
A whole lot of text
Previous iterations of the route maps were text heavy and relied upon colour to differentiate text information. This led to an awkward rainbow of information with a reliance on good vision. The new maps would use a suite of pictograms based on internationally recognised symbols to show route features. This allowed more features to be shown within the limited space available, as well as use of more accessible colour and less reliance upon written language for information. The maps would instead reserve colour for the identification of routes. The new colour system would be spread across all collateral allowing for passengers to quickly link information.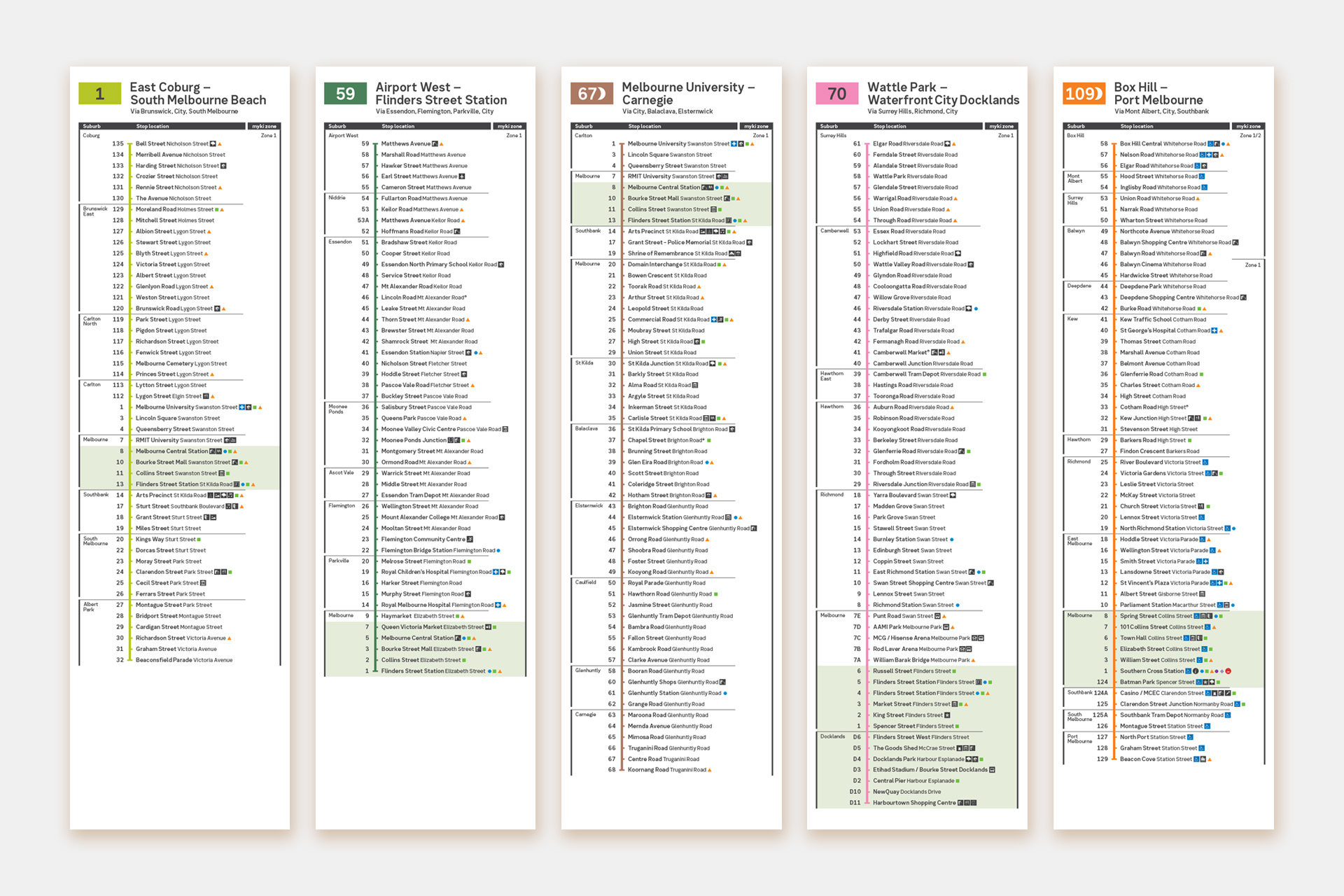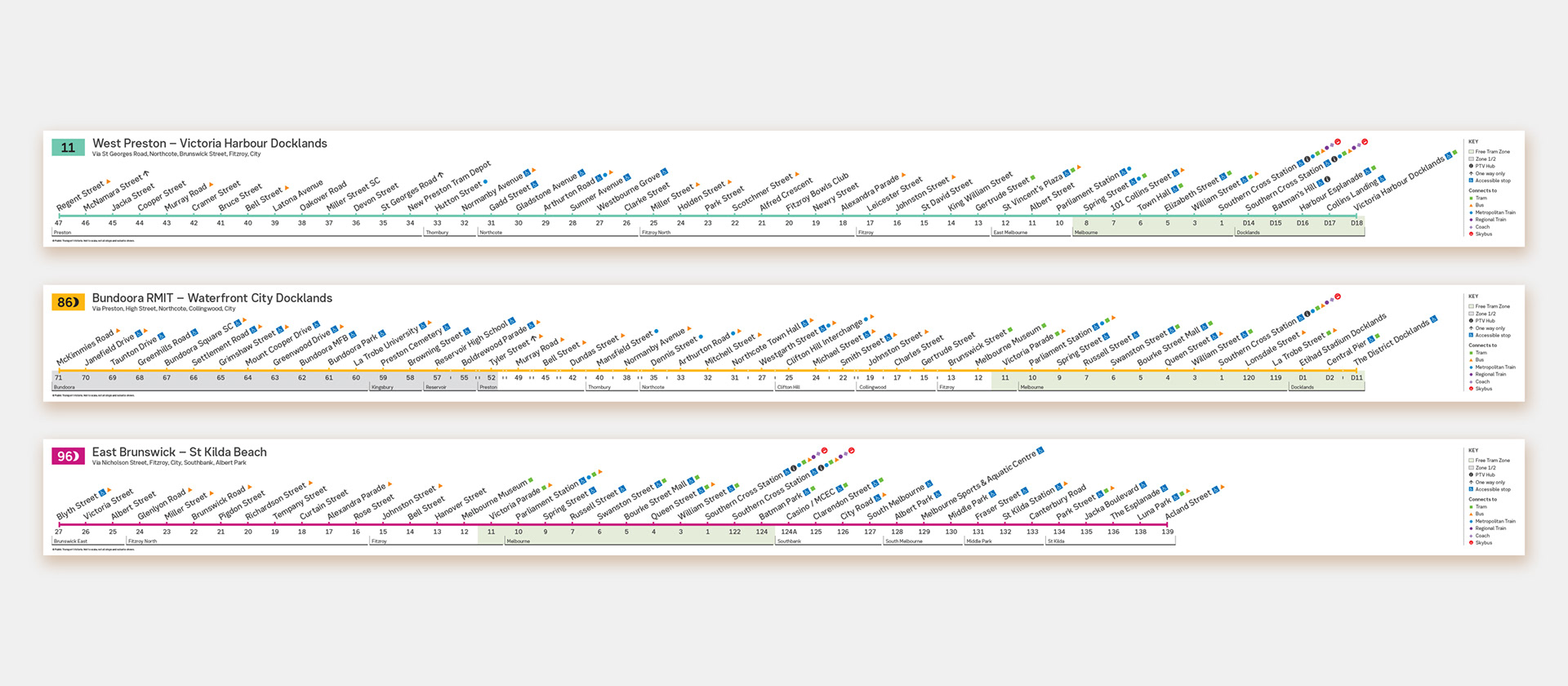 A new font
In order to manage the tens of thousands of pictogram instances required in a network-wide information suite, I decided contain them within a font. This would allow quick and easy access to the symbols from within any software, including in any future automated process. 
To develop the font, I used Glyphs - a professional font creation software tool. I developed the font using a scale relationship to Network Sans, PTV's font. The design studio developed Network Sans in-house and I have been involved in that process. This allowed the consistent use of pictograms and text side by side without any additional typesetting. I named the new pictogram font Network Picts.
Bringing it all together
Using InDesign I created templates out of the route map designs I had developed. I then used InDesign's data processes and nested styles to generate the maps. The process combined columns from PTV's timetable database with the new font assets to generate almost print ready line maps for use on-board and in printed material.
After this, the final step was art directing finished artists while they tidied up the generated route maps for production and worked with Yarra Trams to proof the tens of thousands of referenced stops and pictograms. 
Outcome
Once approved, I used the route maps alongside timetable information in the new route guides. The route guides were published and now appear on-board every tram. The standalone route maps feature on-board every tram on the network. Ongoing maintenance and updates for the maps is handled in-house by Yarra Trams.